Easy Ham and Swiss Stromboli can be anything you want it to be! Breakfast? Yes. Brunch? You bet. Dinner? Of course! This meal is a triple threat. It's easy enough to be a side dish. But so good it will be the star of the table. 
One of our favorite things to make is this Quick and Easy Stromboli for dinner.  We also love this BBQ Chicken Stromboli.  They are so easy to make and always a hit!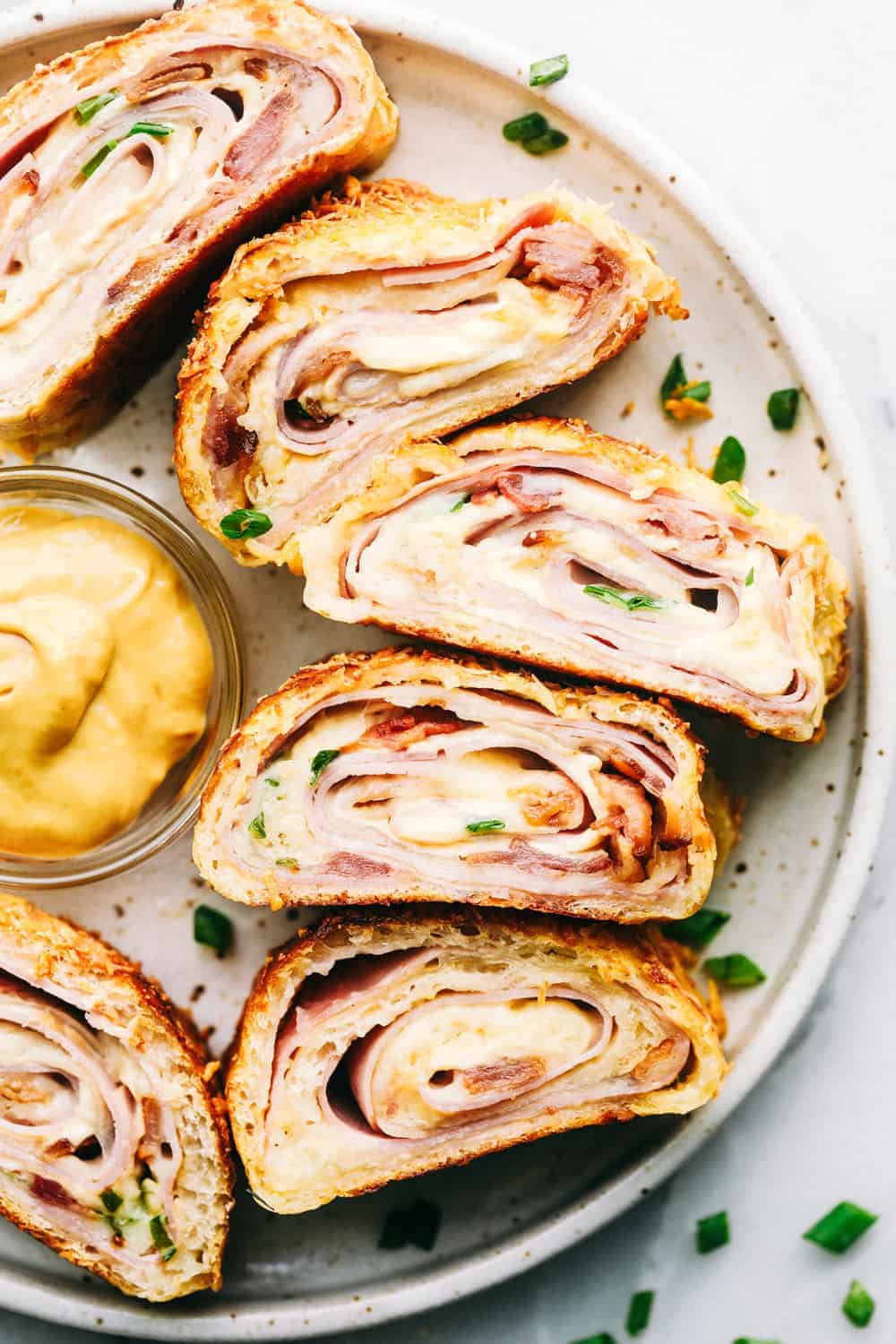 I know that with this meal I've always got the kids approval. We all know how it can be to feed picky kids. But with this recipe you can make it at any time of the day, and be confident that their bellies will be full. Not to mention, with all the entertaining this season brings. You can bet this is a great meal to share. Of course with how good it is, I wouldn't be surprised if its the first thing gone.
MY OTHER RECIPES
MY LATEST VIDEOS
What is Stromboli?
Stromboli's are usually thought of more with Pizza. You could say it's a different take on a Calzone. While a Calzone is Stuffed inside of pizza dough, Stromboli's ingredients are rolled in it. This Stromboli is a bit different. As you can see it's not your classic pizza ingredients. In my opinion these contents give this meal more opportunity to be on the table at any time.
How do you make Ham and Swiss Stromboli?
Broken down into three easy steps, you'll have this on your table in no time.
Preheat the oven to 400 degrees. Roll out your refrigerated pizza dough onto a parchment paper lined baking sheet. Spread the dijon mustard evenly across the dough.
2. Next. Add your sliced Ham and Cheese and top with Green Onions and Bacon. Roll the dough up and place in the center of the baking sheet with the seam on the bottom.
3. Last. Brush with Egg and sprinkle the top with Parmesan Cheese. Bake for 12-15 minutes or until golden brown on top.
What is in Traditional Stromboli?
The best thing about Stromboli's, is that there are endless possibilities. You could make the Simplest combinations, or get more complicated with some more complex mixtures. A Traditional Stromboli is usually made up of a mixture of Italian Cheeses and Cold Cuts. Usually packed With Italian Meats and Vegetables.
Are Stromboli and Calzones the same thing?
Calzones are very similar to strombolis, but they are two different dishes.  A Stromboli is made with square shaped pizza dough and then topped with toppings and rolled into a log and baked.  A calzone uses round pizza dough that gets folded in half and baked.
Looking for more takes on Pizza? Check out these Recipes:

Easy Ham and Swiss Stromboli
1 Tube Thin Refrigerated Pizza Crust
3 Tablespoons dijon mustard
6 ounces sliced ham
6 ounces sliced Swiss cheese
6 green onions, sliced
6 pieces bacon, cooked and crumbled
1 egg, beaten
¼ cup grated parmesan cheese
Preheat oven to 400 degrees. Roll out the refrigerated pizza dough on a parchment paper lined baking sheet. Spread the Dijon Mustard evenly on top.
Add sliced ham and cheese and top with green onions and bacon. Roll the dough up and place seam side down on baking sheet.
Brush with the egg and sprinkle the top with parmesan cheese. Bake for 12-15 minutes or until golden brown on top.
3.5.3226