Japanese Vegetable Curry from One-Dish Vegan by Robin Robertson is a terrific quick and easy weeknight dinner dish.
One of the things that I hear frequently from my health coaching clients is that they don't feel inspired to cook dinner after coming home from a long day at the office. Luckily, Robin Robertson is here to help with her revised and expanded edition of One-Dish Vegan.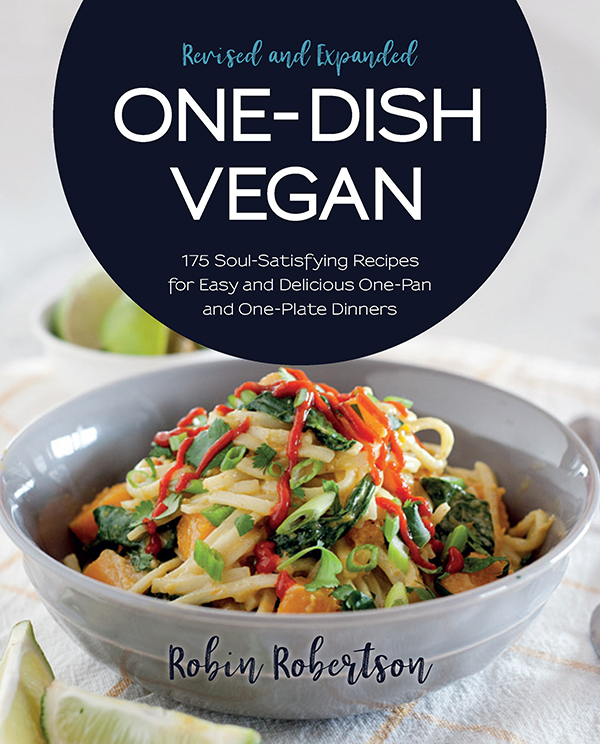 Revised and Expanded
One-Dish Vegan originally came out in 2013, and few things have changed since then. Cookbooks are now loaded with gorgeous full-color photos, and ingredients such as jackfruit are becoming more ubiquitous. So Robin has revised and updated her beloved cookbook to reflect those changes. This new edition has 25 more recipes, so if you do have the first one, you're going to want to add this one to your library, too.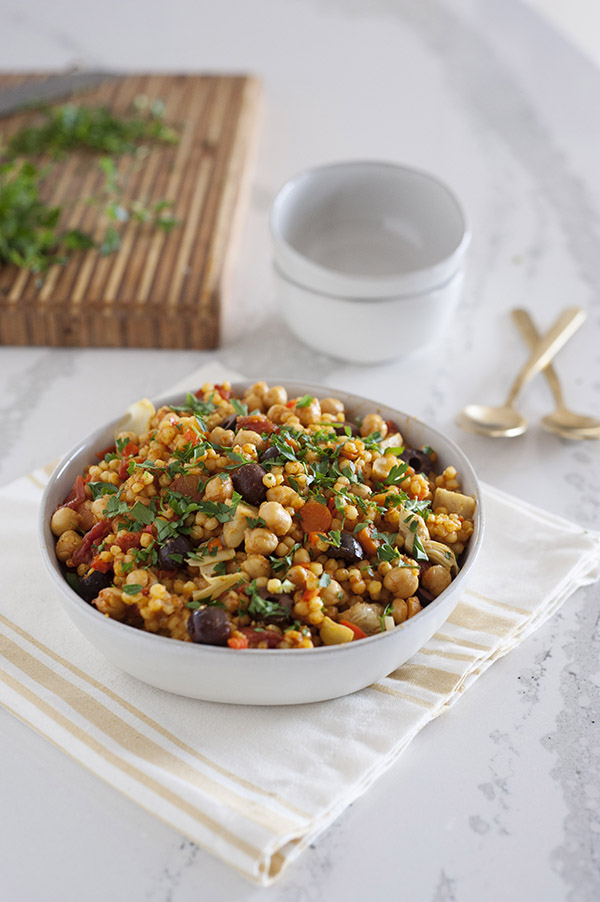 One-Dish Vegan
Robin begins One-Dish Vegan with info that newbie vegans will find handy, such as how to cook dry beans, how make your own seitan, and how to cook without oil.
If you're already a pro in the vegan kitchen, you can dive right into the recipes. These dishes are all easy to make using ingredients are readily available at most grocery stores. They are all one-dish meals that are perfect for dinner – or for lunch, if you're really hungry! You'll find a few brunch – or breakfast for dinner! – recipes too, including a Layered Brunch Bake and Frittata Primavera.
The recipes range from soups and big salads to pastas, stir-fries, and casseroles. You'll find summery light fare, such as Smoky Chickpea Salad with Mango and Avocado and Risotto with Artichokes and Mushrooms, as well as hearty comfort food dishes, like Butternut and Cremini Lasagna and Southwestern Mac and Queso. There's even a whole chapter devoted to chili!
Not Always One-Pot Vegan
While these dishes are all healthy, well-balanced meals that can be served in one bowl, not all of them can actually be cooked up in one pot. A lot of them can be, but there are some that consist of components that are cooked separately and combined before serving. Sometime require sauces to be cooked in a different pot before it's added to the dish, while others might call for a crust to be prepared separately before being filled with sautéed vegetables and baked.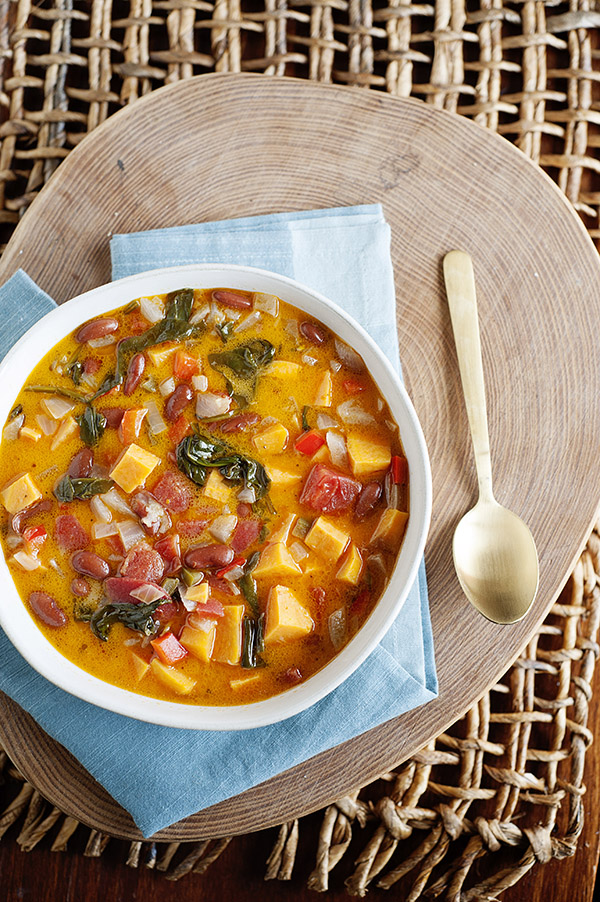 Chapters in One-Dish Vegan include:
In the Kitchen
Soups that Make a Meal
Main-Dish Salads
Stovetop Simmers and Stews
Chili Today
Sautes and Stir-Fries
Pasta Plus
Oven to Table
If you're looking to add more easy meals to your dinner rotation, One-Dish Vegan is the book for you!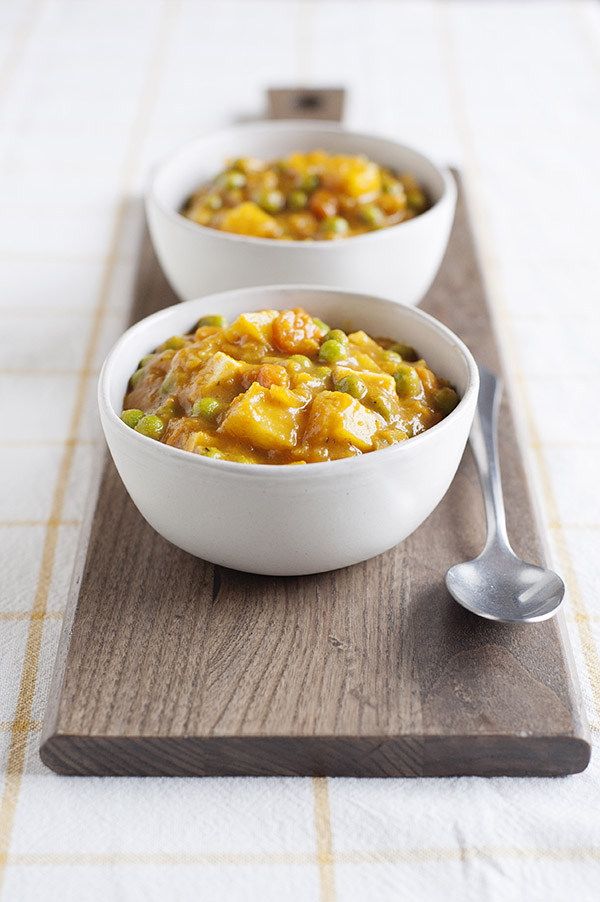 Japanese Vegetable Curry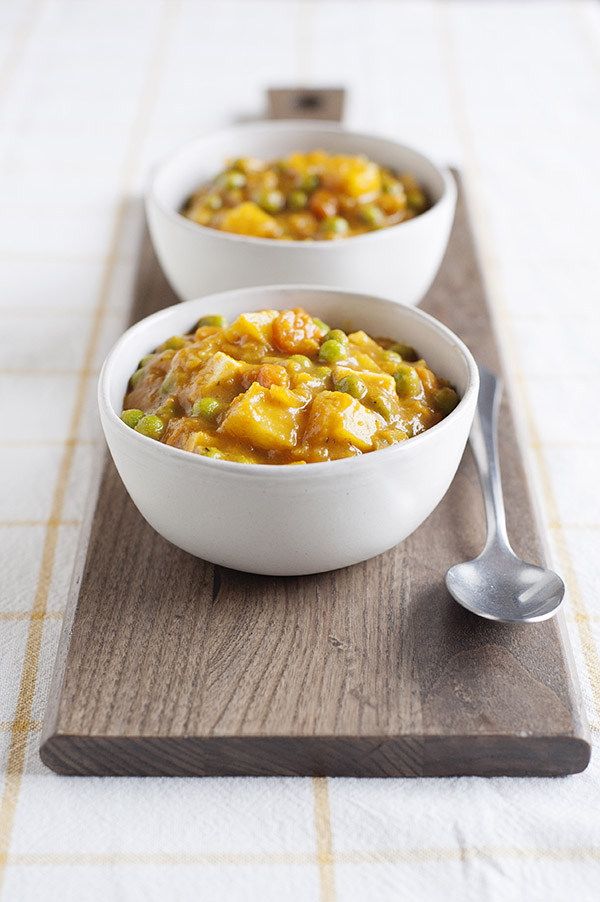 Milder and thicker than other curries and slightly sweet, Japanese curries are typically thickened with a roux. This version cuts the fat and adds flavor by pureeing some of the vegetables in the curry to thicken it. This is also good made with fresh or frozen shelled edamame instead of the tofu and snow peas instead of the green peas. S&B brand curry powder works best in this dish.
Author: Robin Robertson
Recipe type: dinner
Yield: 4 servings
Ingredients
2 teaspoons olive oil or ¼ cup (60 ml) water
1 large yellow onion, chopped
2 carrots, peeled and cut
into ¼-inch (6 mm) thick slices
1½ to 2 tablespoons (9 to 13 g) yellow curry powder
1½ tablespoons (24 g) tomato paste
1 tablespoon (15 ml) wheat-free tamari
1 to 2 teaspoons agave nectar
¼ teaspoon cayenne pepper (optional)
⅓ cup (82 g) applesauce
3 cups (700 ml) vegetable broth
1 large russet potato, peeled and cut into 1-inch (2.5 cm) dice
Salt and freshly ground black pepper
1 tablespoon (16 g) mellow miso paste
8 ounces (225 g) extra-firm tofu, well drained, blotted dry, and diced
¾ cup (113 g) fresh or (98 g) thawed frozen peas
Instructions
Heat the olive oil or water in a large pot over medium heat. Add the onion and cook until softened, about 5 minutes. Add the carrots and then stir in the curry powder, tomato paste, tamari, agave, cayenne (if using), applesauce, and broth and bring to a boil. Reduce the heat to a simmer and add the potato and salt and pepper to taste. Simmer until the vegetables are tender, about 30 minutes.
Transfer about 2 cups (455 g) of the mixture to a high-speed blender or food processor. Add the miso paste and puree until smooth. Stir the vegetable puree back into the curry along with the tofu and peas and simmer for 5 minutes longer. Taste and adjust the seasonings if needed.
Serve hot.
Notes
From
One-Dish Vegan
by Robin Robertson © 2018 Quarto Publishing Group USA Inc. Used with permission
3.5.3226
Related