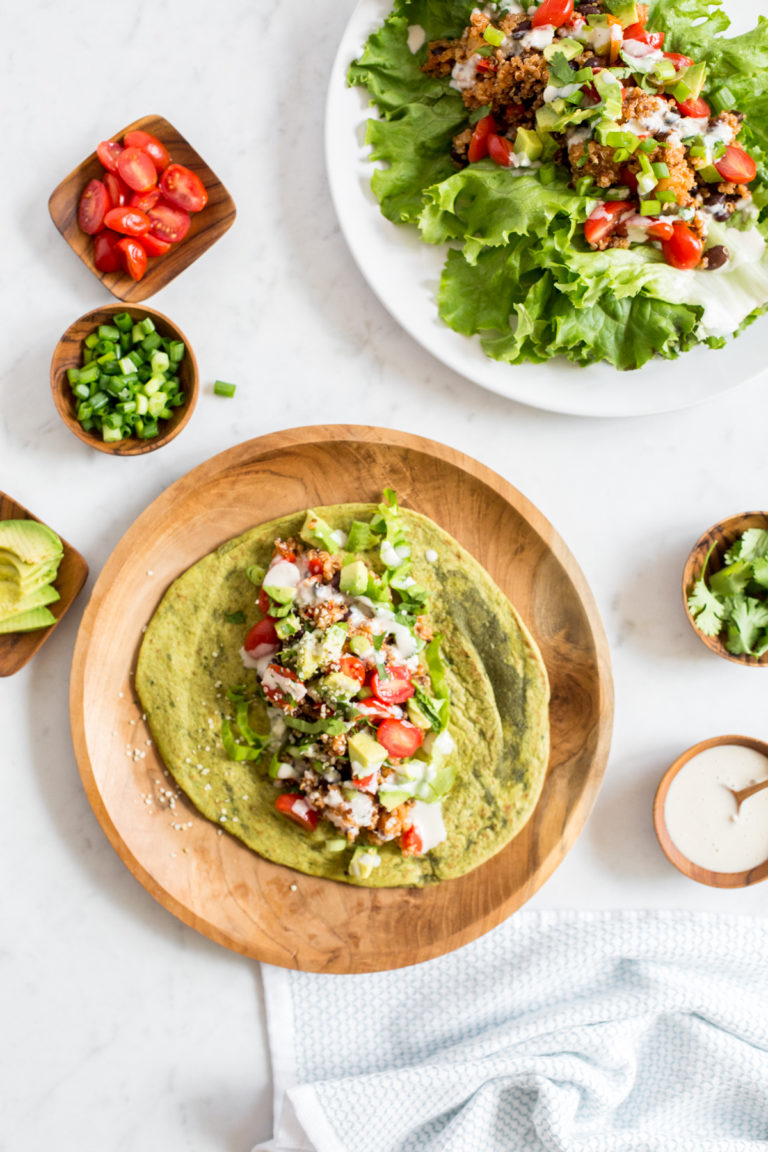 With two toddlers running wild around this joint, my time for cooking meals seems to be dwindling away. People tend to assume that I have these perfect, from-scratch meals on the table every night, and to be honest, at this stage in our lives we're still very much in survival mode. I'm pretty gentle with myself and focus on the big picture as much as possible. If everyone is happy with a full belly, well that's success! We all do the best we can. Raising a family is messy and imperfect and humbling.
But, still, I'm always looking for shortcuts. I recently started experimenting with one pot quinoa dishes and absolutely fell in love with their simplicity and versatility. This recipe takes just 10 minutes to throw everything into a skillet or pot and then all you do is cover it and cook. Like magic! It's a great option for the summer when you don't want to turn the oven on (like this weekend for those of us in this crazy heat wave). Just one stovetop element is all you need. You really can't beat that…unless of course your partner is cooking for you while you sip on some rosé….*wink, wink*
Is it kid-friendly? Well, it is and it isn't. If your little one loves quinoa, they may enjoy this dish (reduce spice if necessary). If they don't already like quinoa, it'll likely be a pass (shocker). I had one love it and the other said "EWWWWWW!" (their new favourite word…sigh). The one who inhaled it the first night wouldn't touch it the next day. *double sigh* The feeding toddlers struggle is real.
For us normal folk, it seemed to be a hit! My mama testers lit up with joy when they heard it was a one pot meal. And, I mean, you don't even have to sauté anything! I'm anxious to hear what you think if you try it out. I always worry that these super easy recipes are lacking in some way, and I hesitate posting them.  
Well, my fellow Canadians, I hope you have a fun Canada Day weekend! Hard to believe it's already upon us! And for my American friends, have a fantastic Independence Day next week. Are you celebrating with any OSG recipes this weekend? Let me know and be sure to share on social media using the tags #ohsheglows and @ohsheglows so I can drool over them!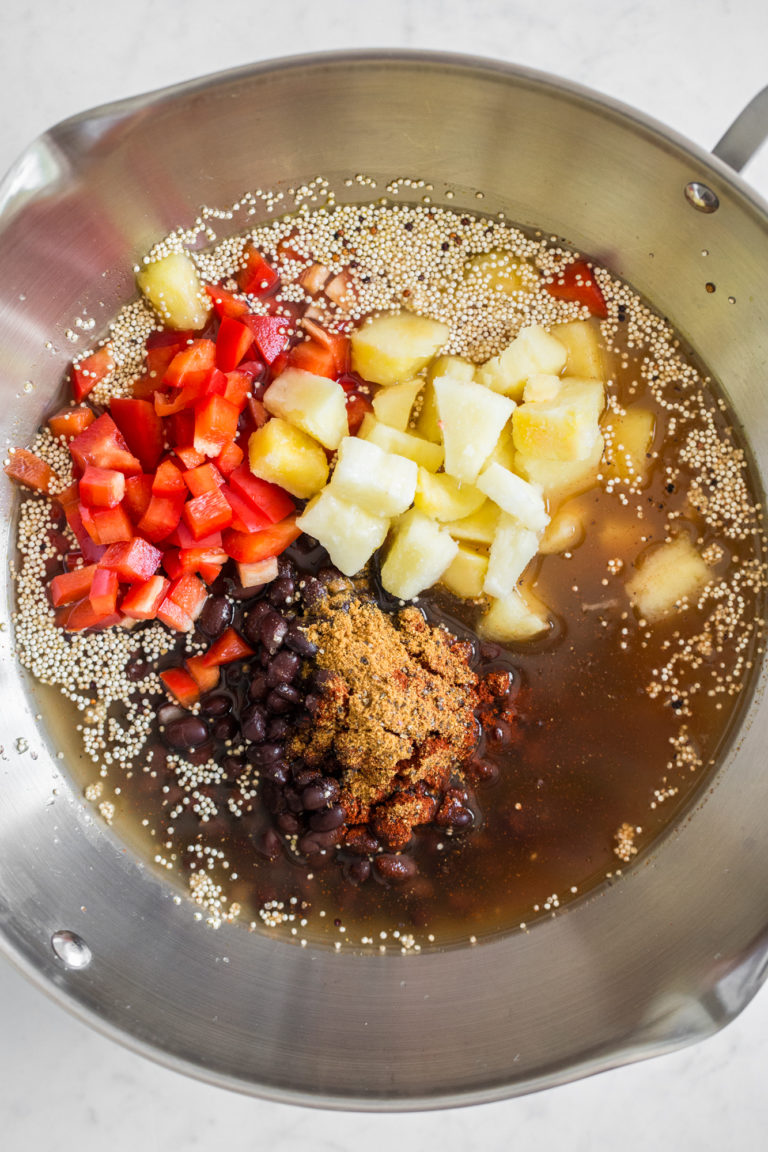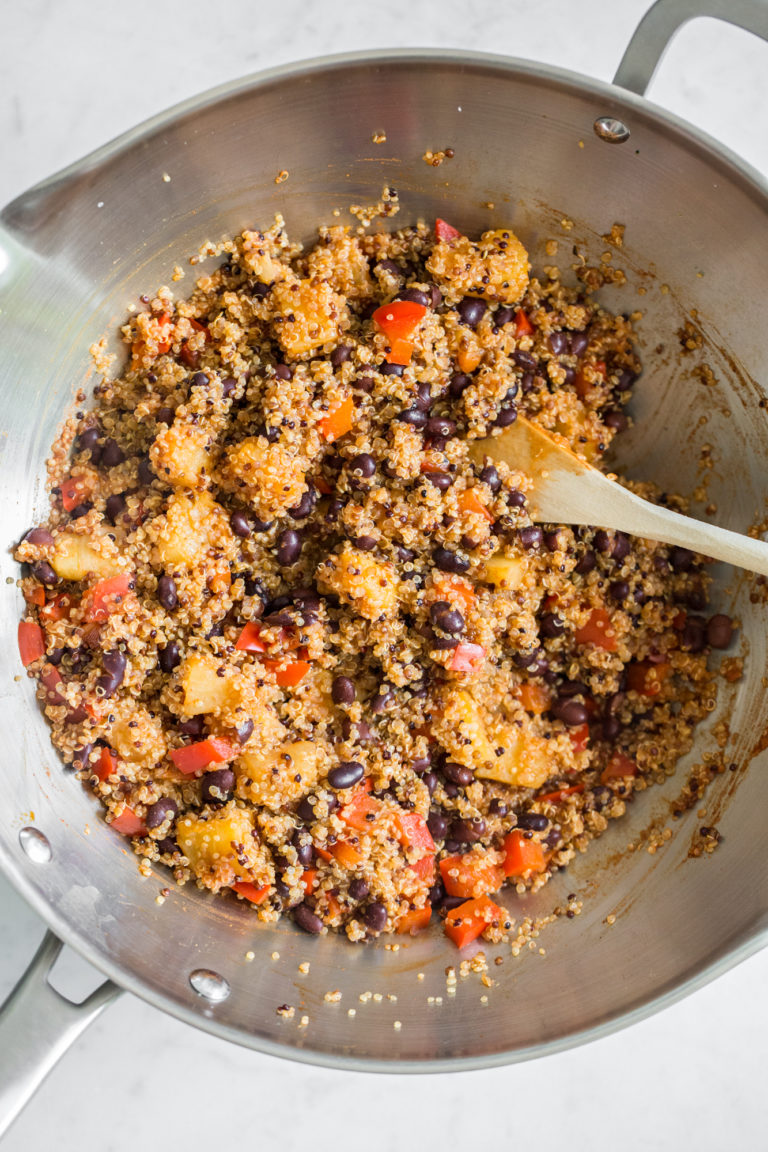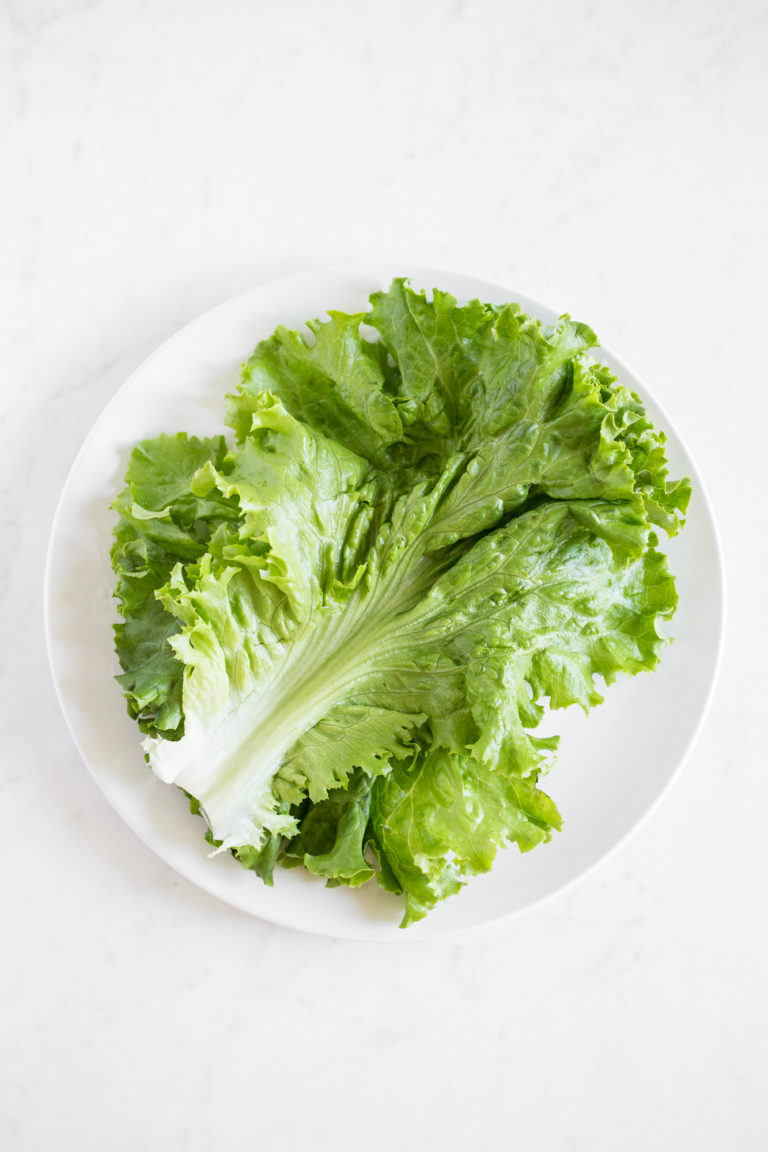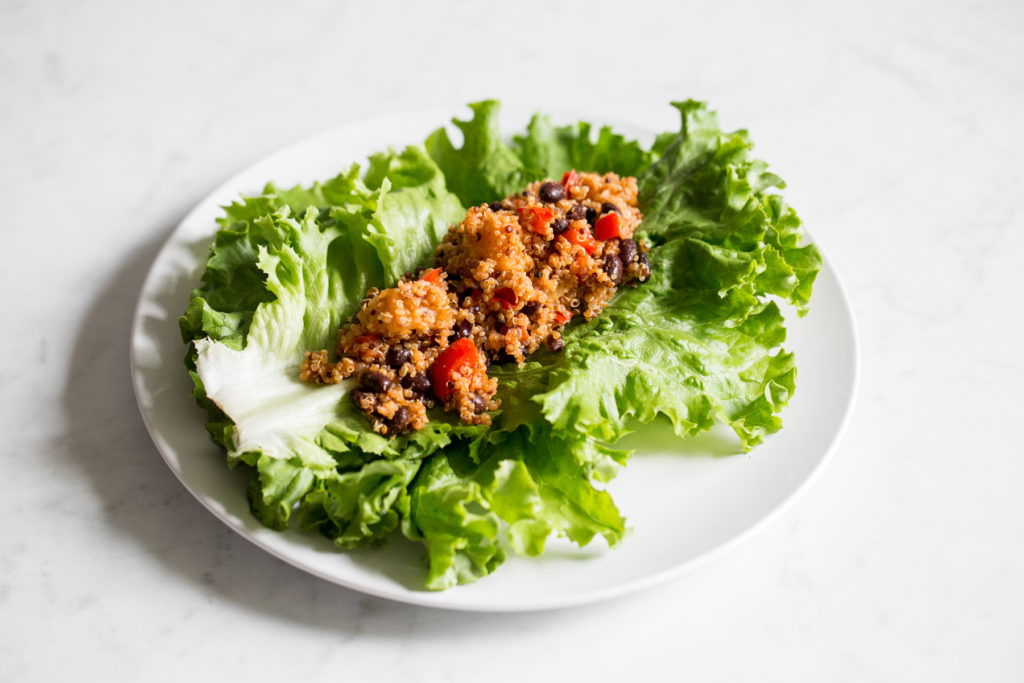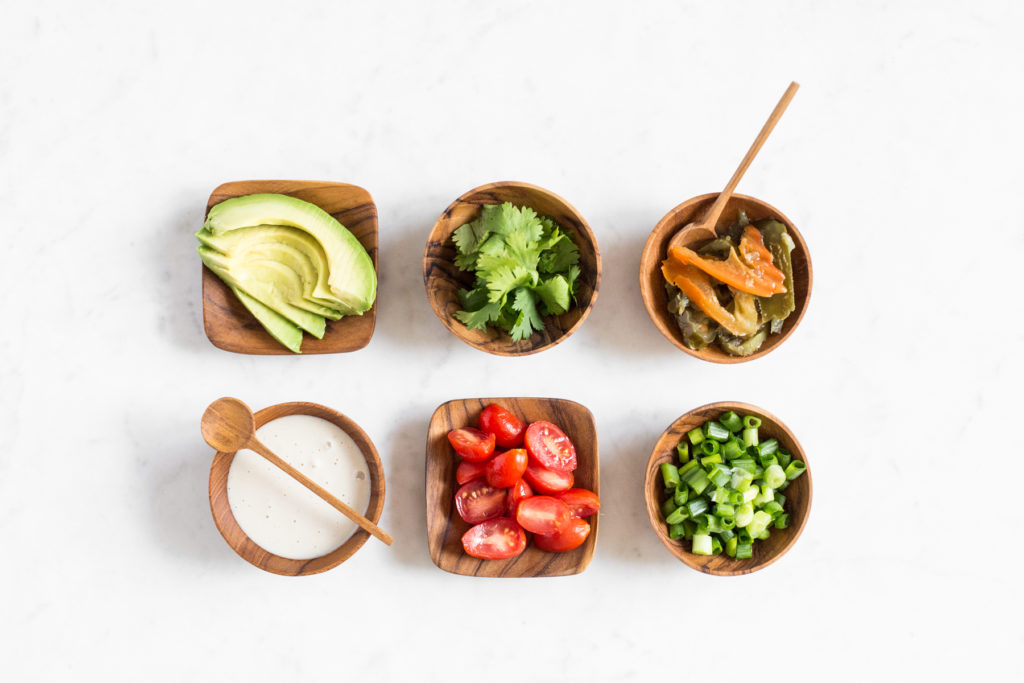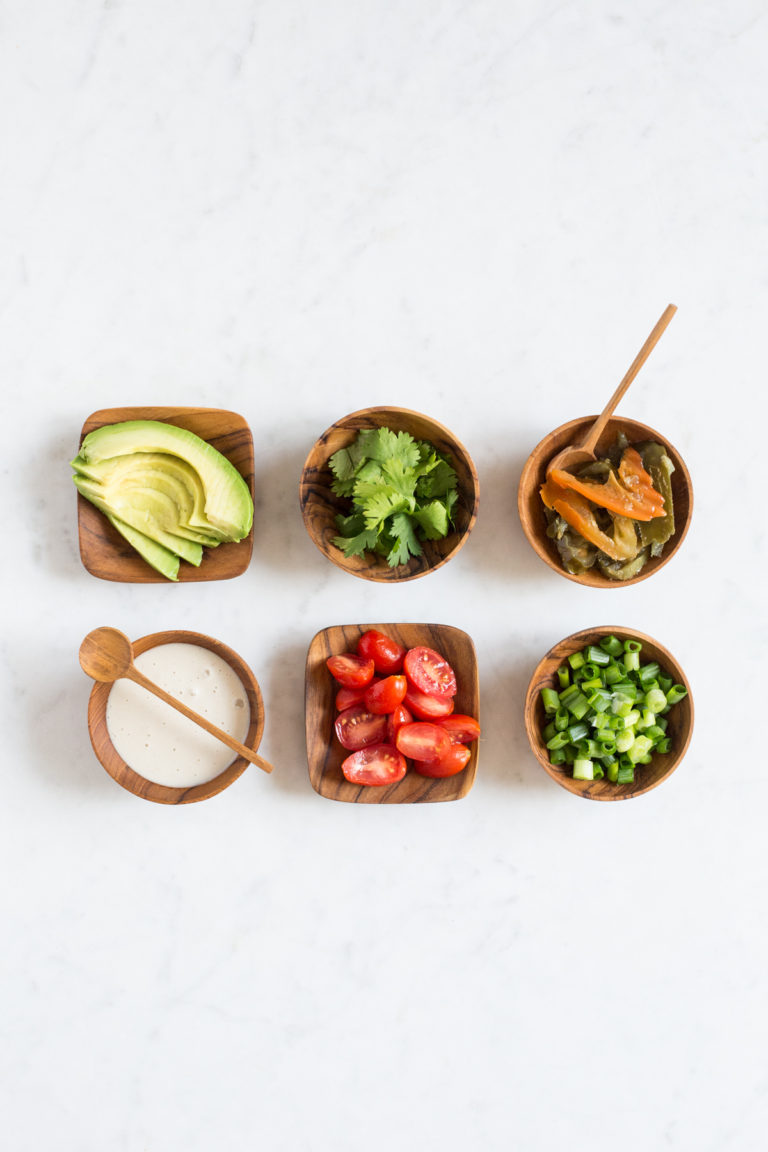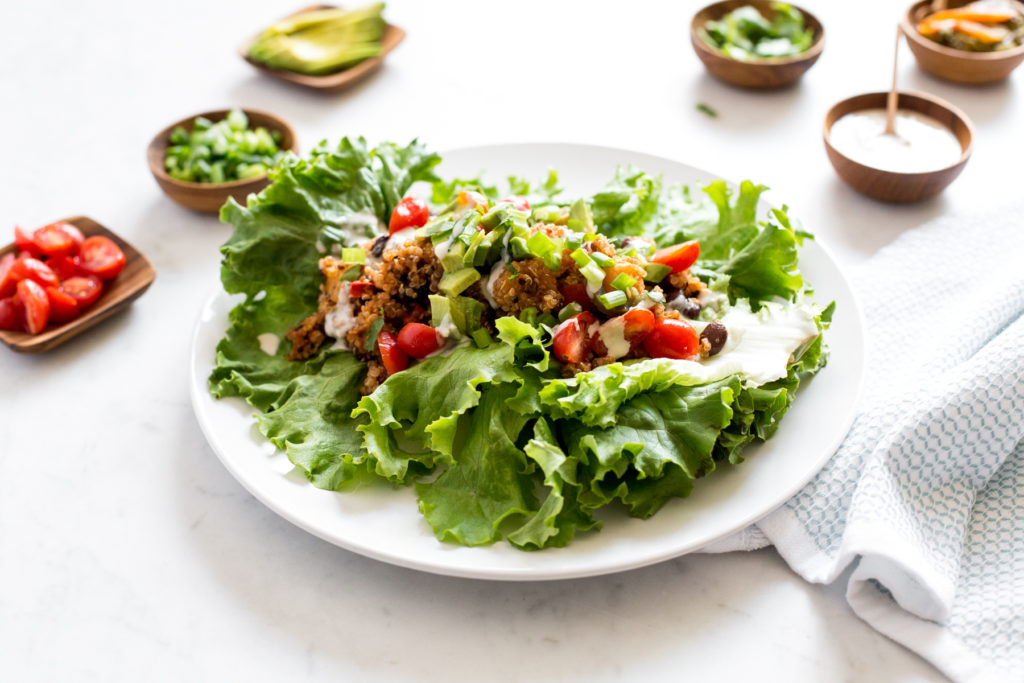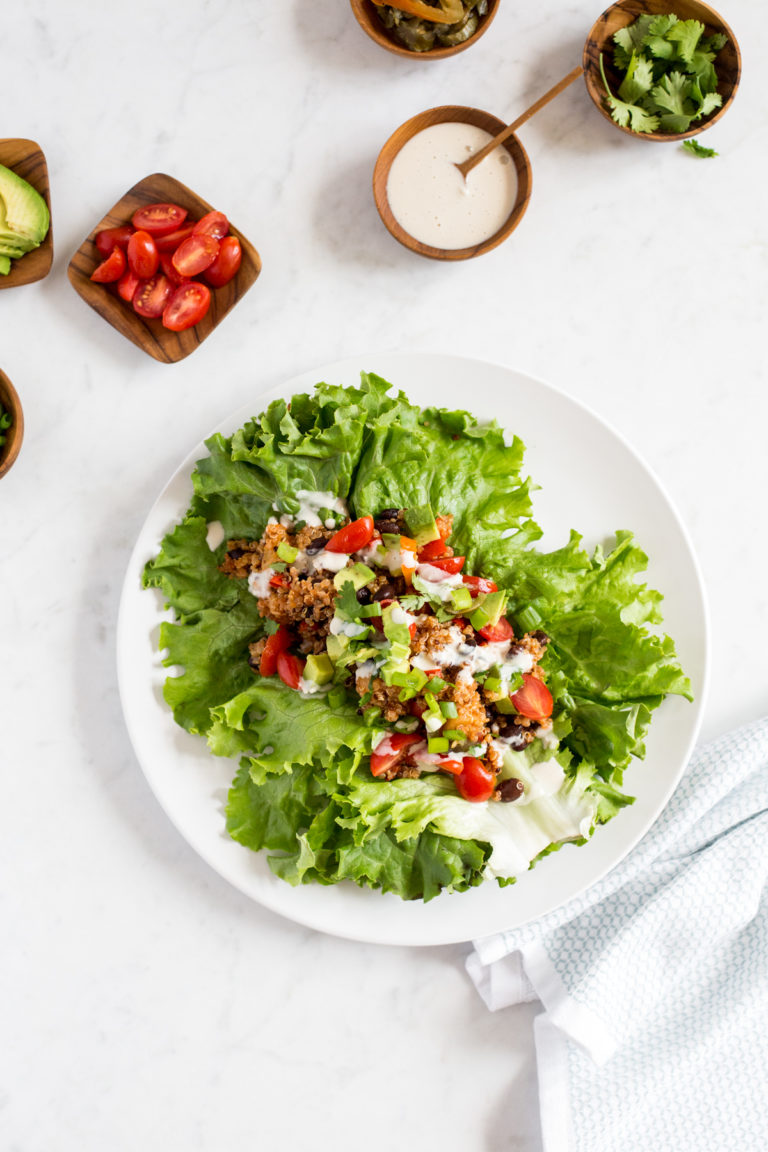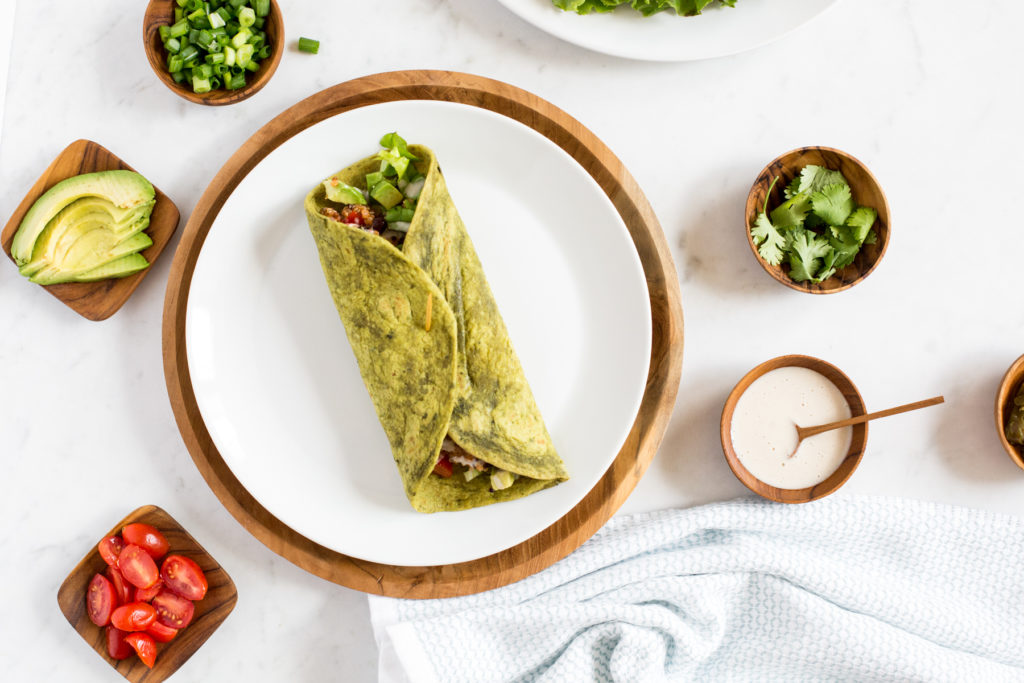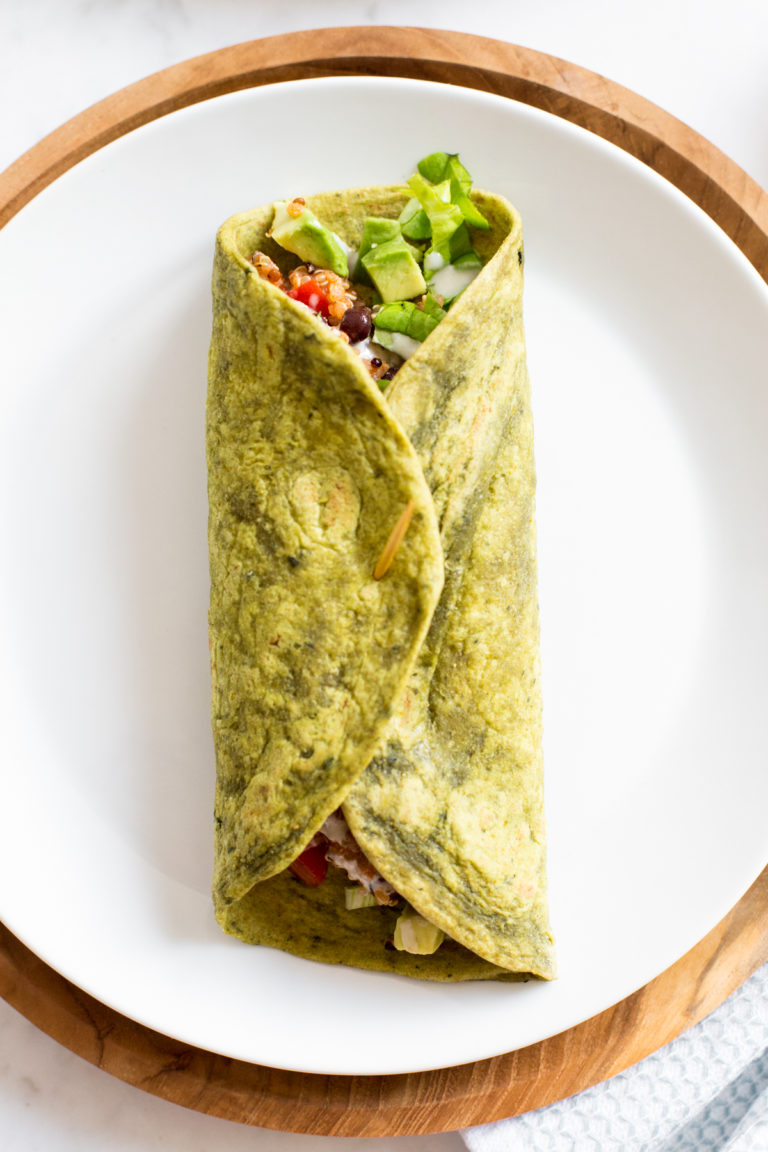 Yield

12 small wraps/5 cups quinoa
Prep time


Cook time


Total time


Ingredients:
For the quinoa:
1 cup (200 g) uncooked quinoa, rinsed and drained

1 3/4 cups (430 mL) low-sodium vegetable broth

1 (14-ounce/400 mL) can black beans, drained and rinsed

1 small red bell pepper, seeded and diced (1 cup/125 g)*

1 heaping cup (145 g) frozen pineapple chunks**

3 tablespoons (45 mL) coconut aminos/soy-free seasoning sauce***

2 teaspoons (10 mL) smoked paprika

1/4 teaspoon cayenne pepper, or more to taste****

1 tablespoon (5 mL) fresh lime juice, plus wedges for serving

Fine sea salt and black pepper, to taste (I added 1/4 teaspoon each)

Lettuce or flour wraps
Topping suggestions:
Directions:
Gather your quinoa ingredients on the counter so you have them ready. To a large pot, add the quinoa and broth. Set the heat to medium and bring to a simmer while you add the rest of the ingredients: drained black beans, red pepper, pineapple, coconut aminos, paprika, cayenne, lime juice, salt and pepper. Stir to combine.

Bring to a low boil over medium-high heat. Reduce heat to medium, cover, and cook

for 16 to 21 minutes, reducing heat if necessary, until the quinoa is fluffy and the water is mostly absorbed. I recommend checking it after 16 minutes and then every few minutes thereafter. Stir the cooked quinoa mixture and season to taste.

If using lettuce for your wraps, place one large leaf on a plate. Add another leaf on top so that its base is pointing the opposite way of the leaf below. Top each lettuce wrap (or flour wrap, if using) with a spoonful of hot quinoa. Add your desired toppings (I like to use every topping listed), a small pinch of salt, and a lime wedge on the side. If the lettuce wraps are too difficult to eat with your hands, you can dig in with a fork and knife.

The quinoa is best served fresh as it tends to dry out in the fridge, but you can store it in an airtight container in the fridge for 1 to 2 days. To reheat the quinoa, add it to a pot along with a splash or two of broth, cover, and warm on the stovetop over medium heat. You'll likely need to add more seasonings as the flavour diminishes over time.  
Nutrition Information
Serving Size
1/3 cup cooked quinoa
| Calories
110 calories
| Total Fat
1.5 grams
Saturated Fat
0 grams
| Sodium
135 milligrams
| Total Carbohydrates
19 grams
Fiber
3 grams
| Sugar
2 grams
| Protein
5 grams
Nutritional info does not include wraps or toppings.
* Nutrition data is approximate and is for informational purposes only.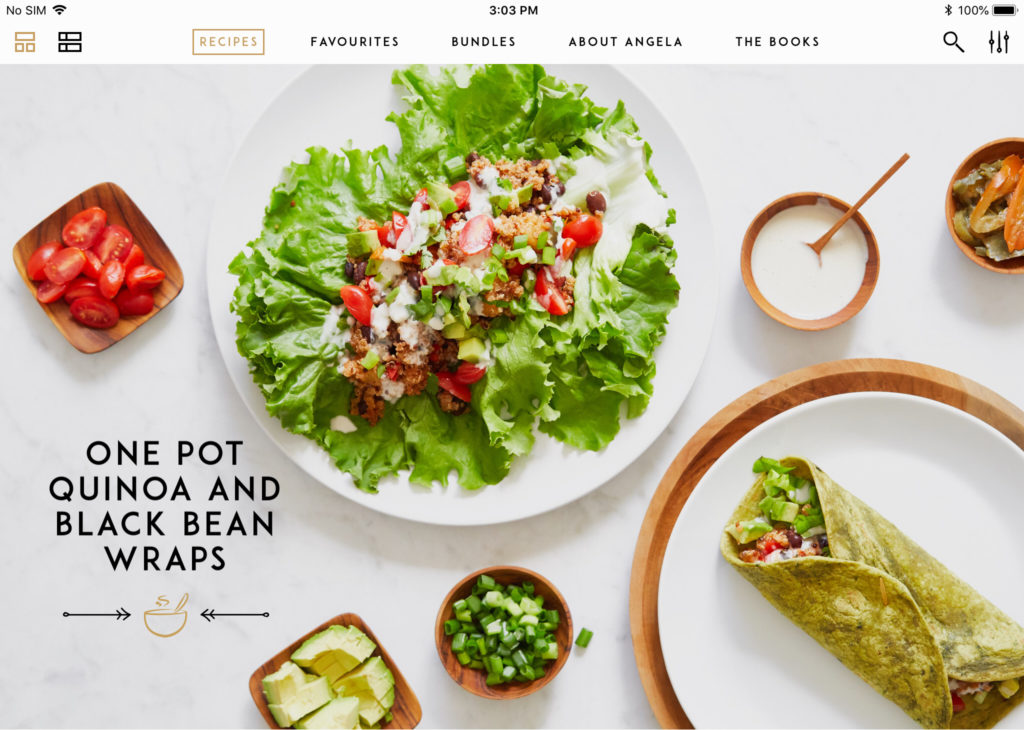 As always, you can also find this recipe in The Oh She Glows Recipe App! It's available for download on iOS and Android devices for all your "on the glow" needs. 😉 
Let's get social! Follow Angela on Instagram @ohsheglows, Facebook, Twitter, Pinterest, Snapchat, and Google+