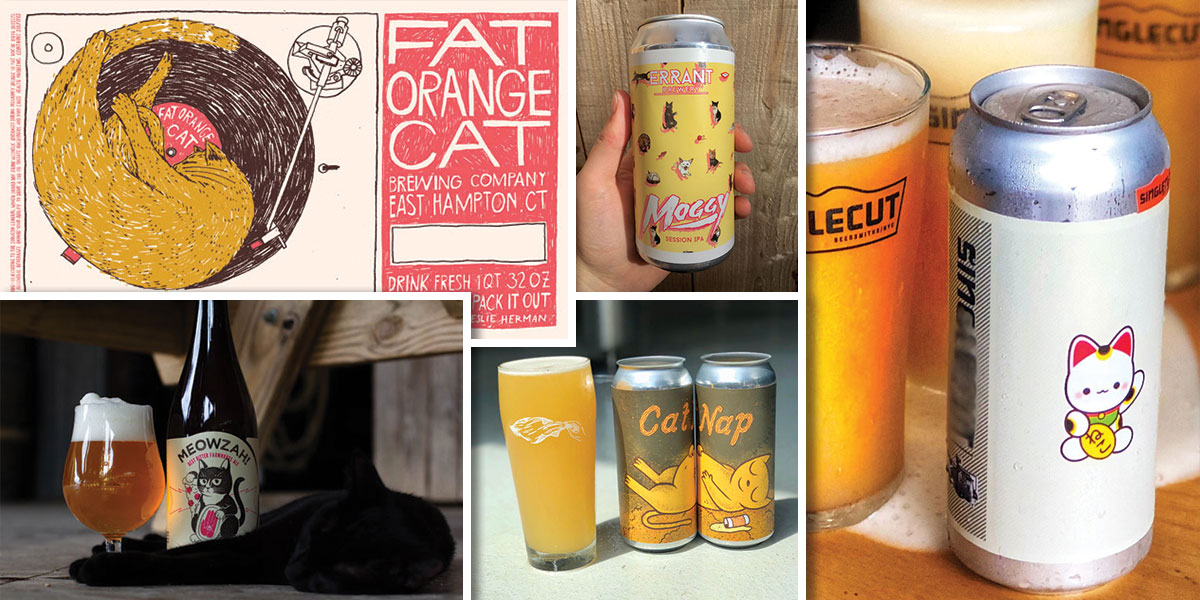 Cats have invaded the craft beer world. Not only are your favorite breweries patrolled by noble beer cats who ward off vermin while protecting the sacred hops, but now the feline form has slinked over into the craft brew artwork scene. These days, cans and bottles are regularly fronted up by illustrations starring beloved rescues, homages to dearly departed brewery cats, and even kitties paired with glow-in-the-dark psychedelic pizzas. In honor of the most excellent synergy between cats and beer culture, here are eight cases of top-notch cat-themed craft beer artwork.
Kitty Kitty Pizza Party | Barewolf Brewing | Amesbury, MA
Kitty Kitty Pizza Party is a family affair. A 5% ABV dry-hopped pale ale, the dank brew's artwork features two cats adopted by Barewolf's co-founder and head brewer, Stevie Bareford. Maxine is the 8-year-old white cat on the label, and she's mirrored by Chet, a black stray scooped up by Bareford and his wife, Jenny, this summer. There's also the small matter of a pizza party finagling its way into the visuals.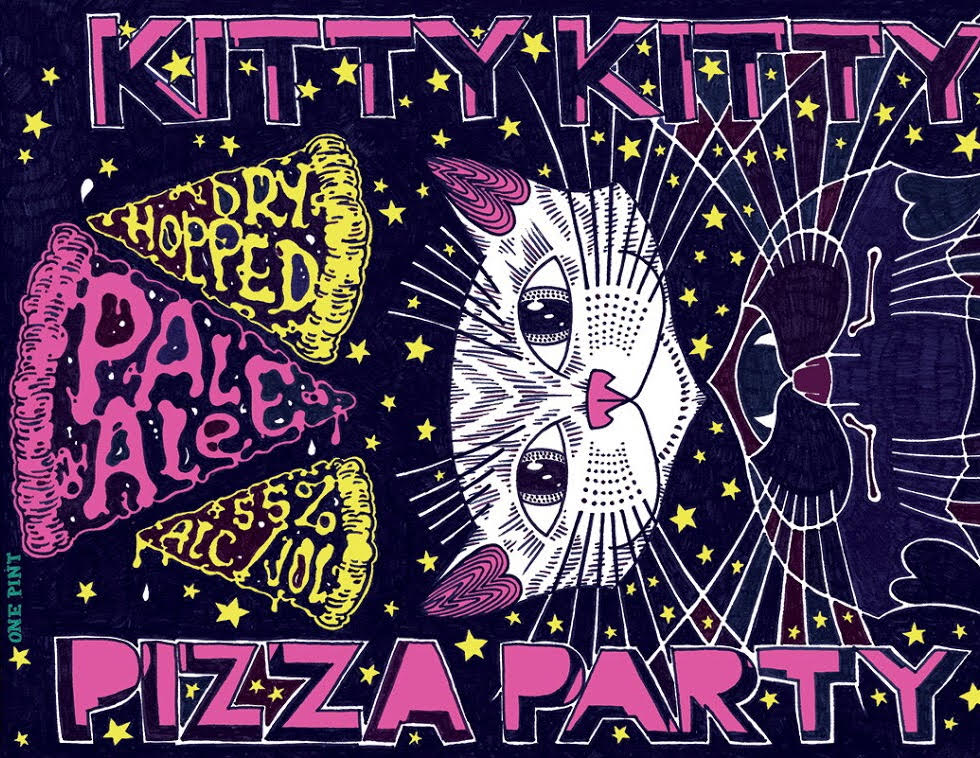 "I was playing with Maxine one day after work at an old job and my wife came home with pizza and beer," Bareford explains. "I broke into spontaneous song which mostly consisted of 'Kitty kitty pizza party!'" Realizing he was on the cusp of genius, Bareford swore he'd name his first beer after the refrain. The cans, which are embellished with stars and psychedelic pizza, also glow in the dark.
(READ: 4 Small Breweries Happy to Stay Small)
Kwingston's Kitty Cat-ina | Pipeworks Brewing Co. | Chicago
There's a whole lot of cat action going down behind the walls at Pipeworks Brewing Co. — sometimes quite literally. When the squad moved to a new facility in 2014, they rescued two kittens who'd managed to become stuck inside a wall. The cats were adopted, given the names Smoose and Craigory, and added to an in-house beer cat crew presided over by original brewery kitty, Kwingston.
Pulling rank, Kwingston claims his own signature beer, an American pale ale that comes with an appropriately screwy back story. According to feline beer lore, Kwingston's Kitty Cat-ina was invented after the brew cat opened his own cantina and realized he needed a house ale. Naturally, Kwingston ordered the humans at Pipeworks to conjure up a meow-garita that has agave nectar, lime, orange zest and salt in the mix. Apparently, the 7.2% ABV APA "purrs well with food."
Strawberry Shortcat | Backpocket Brewing Company | Coralville, IA
Backpocket Brewing claims a whole series of cat-themed beers created in collaboration with Raygun, a Des Moines-based clothing company. The collection stars Gary the Cat, one of Raygun's mascots. Most recently, Gary found himself dolled up in a Strawberry Shortcake hat to help spread the word about the Strawberry Shortcat, a 5.3% ABV sour dessert ale embellished with cinnamon and white balsamic vinegar.
When told about the beer's strawberry shortcake flavor basis, Jennifer Leatherby from Raygun says she immediately thought back to the namesake cartoon character from her childhood and put Gary in a hat and a wig. This adds on to earlier outfits the cat's worn for beer art duties that include "a toga, being a meteorologist, and dressed as the Notorious C.A.T., a feline parody of the Notorious B.I.G." Leatherby adds, "When your character is a cat, the possibilities are endless and usually hilarious."
本から来たネコ (some cat from japan) | Singlecut | Queens, NY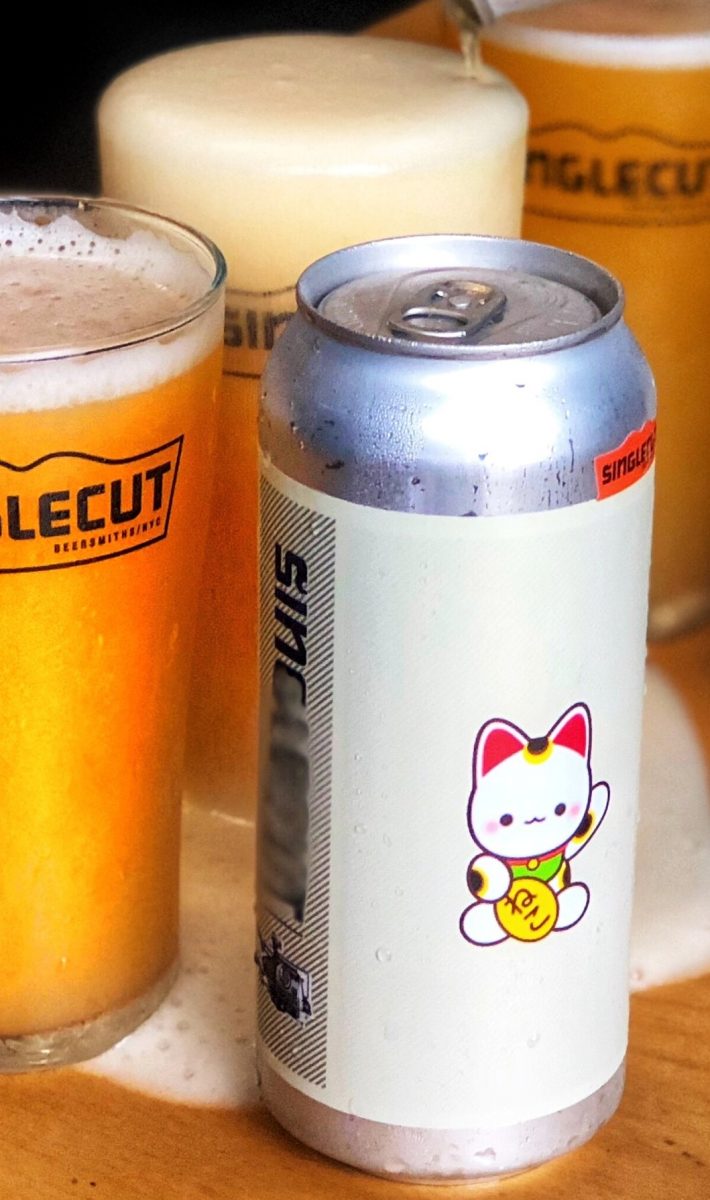 According to the brewmasters at Singlecut in New York City, their 本から来たネコ (some cat from japan) IPA is an "ode to all things adorable." Stylistically, it's heavily influenced by the Japanese and cat culture scenes, with a Hello Kitty-inspired model of a cat fronting up the beer, complete with raised paw in the style of the Maneki Neko feline figurines that are said to bring good luck to businesses.
"We needed a name and a logo that was as cute as the idea of a tiny IPA with a giant dry hop," insists the official Singlecut line. "Thus came the kitty."
La Roja | Jolly Pumpkin | Dexter, MI
Back in olden times, cats were an esteemed part of any self-respecting ship's crew because of the way they protected vital food and rations from pesky vermin. These days, Jolly Pumpkin's La Roja, a sour amber ale aged in oak casks, continues the seafaring heritage by sporting a distinguished feline that brewery founder Ron Jeffries calls a "vaguely playful, noble pirate cat." (Adam Forman is the artist behind the swashbuckling kitty.)
While cats are not exactly known for tolerating the taste of sour foods and tipples, Jeffries insists that should not be a barrier to La Roja's kitty crossover appeal: "Is there a type of beer that a cat is not a good fit for?"
(VISIT: Find a US Brewery)
Cat Nap | The Veil Brewing Co. | Richmond, VA
The squad at Veil can point to a beer cellar that's brimming with cat-themed projects. The brewery's Cat Guy's 9 to 5 is an 8% ABV DIPA whose comic book-style artwork, created by lead brewer Justin Anderson, presents the plight of a beleaguered-looking blue feline office worker. Favoring a darker style of illustration, the Sleeping Forever stout showcases a ghoulish Grim Reaper-esque feline clutching a scythe, courtesy of art director Tim Skirven.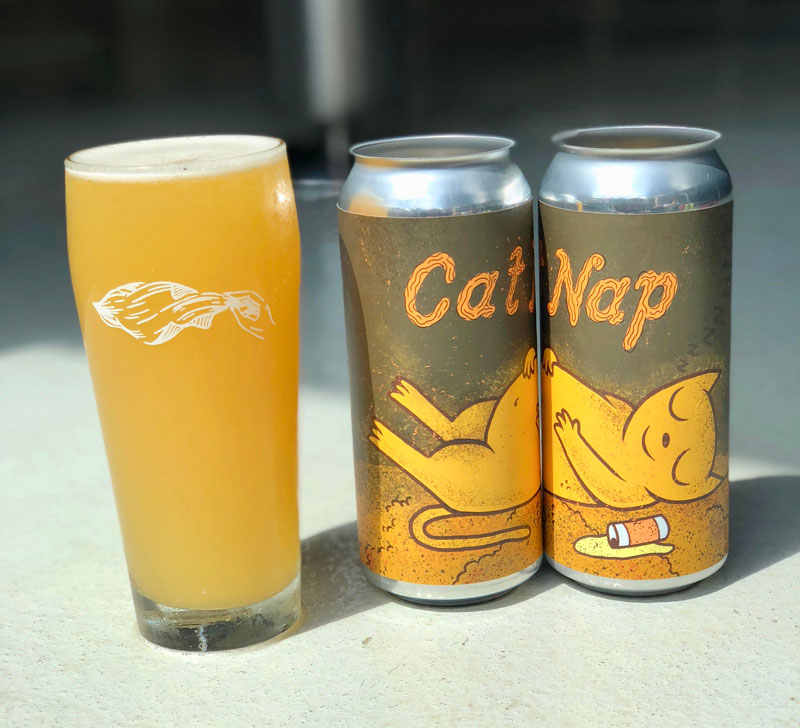 For full feline and hops synergy, Anderson and Skirven teamed up to produce Cat Nap, a 6% ABV riff on the brewery's Dirt Nap beer that's hopped with Citra, Mosaic, Nelson and Galaxy. The star of the brew is the orange tabby cat who adorns the can, blissfully napping while clutching its feline beer belly. Placing two cans together lets you view the happily hopped-up kitty in all its post-session glory.
Meowzah! | Jester King Brewery | Austin, TX
According to Jester King's resident label artist Josh Cockrell, Meowzah! is a collaborative take on an English best bitter that was created in cahoots with the Masonry craft beer bar in Seattle and came about "out of admiration of friendship, community, low alcohol beers and cats."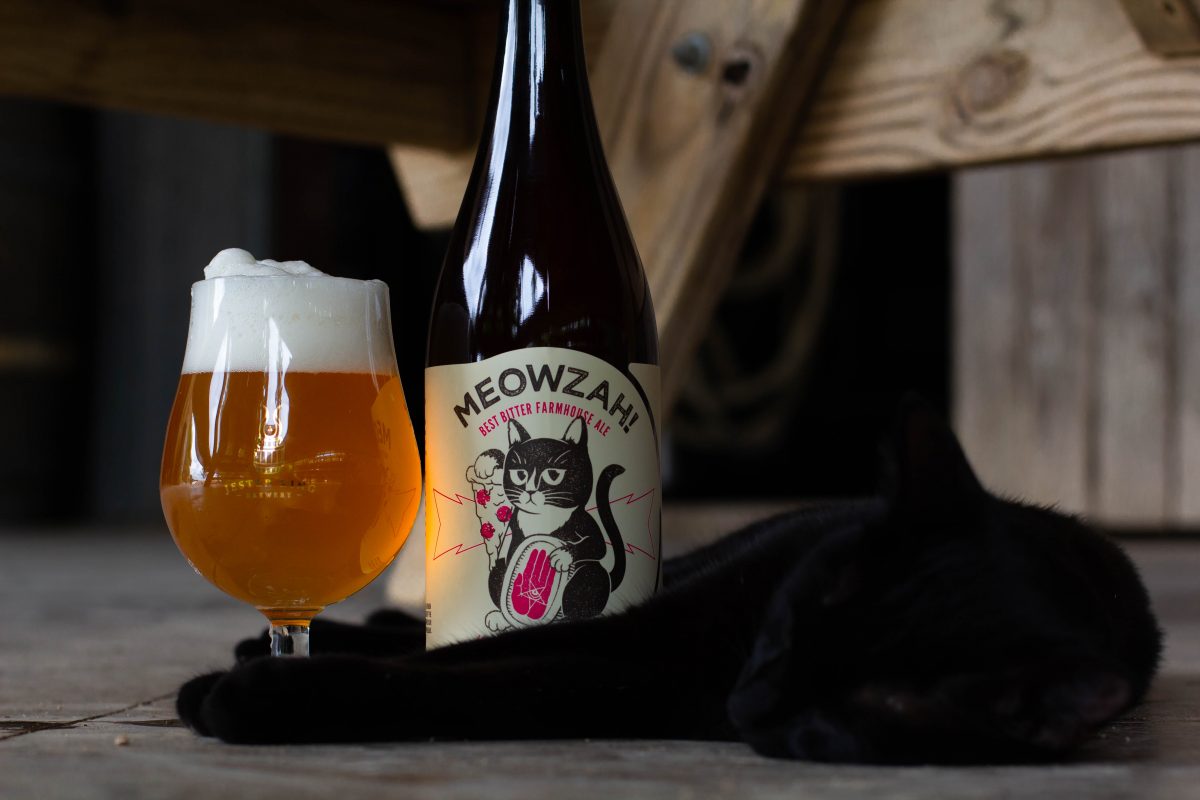 Digging into the feline history of the beer, it turns out the dapper tuxedo kitty posing on the front of the bottles is Cockrell's own cat, Pudding, who's decided to hold up a slice of pizza in a Maneki Neko fashion. There's also the small matter of the masonry-influenced coin Pudding is clutching in her other paw, which suggests there might even be some sinister business going on deep down in the Meowzah! movement.
Crowler Artwork | Fat Orange Cat | East Hampton, CT
Fat Orange Cat's entire beer line embraces a feline-centric style. The seasonal farm brewery is named in honor of Brewmaster Billy, a sadly departed orange tabby cat who used to hang out with founder Mike Klucznik every weekend at experimental picnic table brewing sessions. These days, Fat Orange Cat's label art is handled by Leslie Herman, who bonded with Sheila Mullen from the brewery at a Twelve Percent Beer Project gathering where, she says, they discovered "a shared vibe and aesthetic that would work beautifully together." And of course, they both love cats and beer.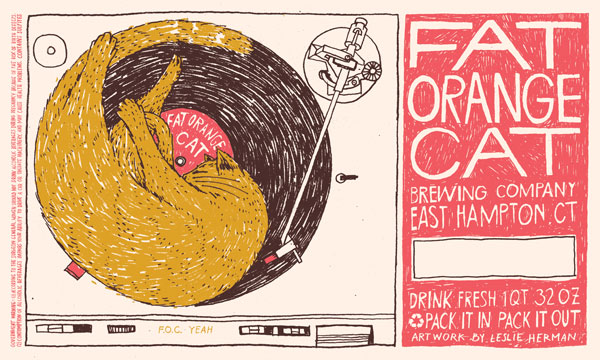 For the brewery's signature crowler art, Herman added a musical influence to the feline shenanigans, with the ubiquitous orange tabby mascot curled snugly up on a vinyl turntable. "Escapism from all the bad stuff in life is easier with a beer and a cat," Mullen says, getting to the heart of the Fat Orange Cat mission.
(READ: 8 Awesome Places to Hold a Brewery Wedding)
Cats In Control
The clowder of beers spotlighted here is just for starters, with the intermingling of cats and craft beer showing no signs of slowing down any time soon. Sure, they might seem curious bedfellows at first, but sipping a brew from a can that features a feline strutting across its label just feels so right — and if you want to save the artwork and frame it, your own cat's certainly not going to judge you.
CraftBeer.com is fully dedicated to small and independent U.S. breweries. We are published by the Brewers Association, the not-for-profit trade group dedicated to promoting and protecting America's small and independent craft brewers. Stories and opinions shared on CraftBeer.com do not imply endorsement by or positions taken by the Brewers Association or its members.