Love Sheet Cake? You are going to flip for this over-the-top Texas Turtle Sheet Cake! The best Texas Chocolate Sheet Cake topped with caramel, chocolate, and pecans. If you love chocolate sheet cakes you can also try my Best Chocolate Sheet Cake or my Chocolate Craving Cake!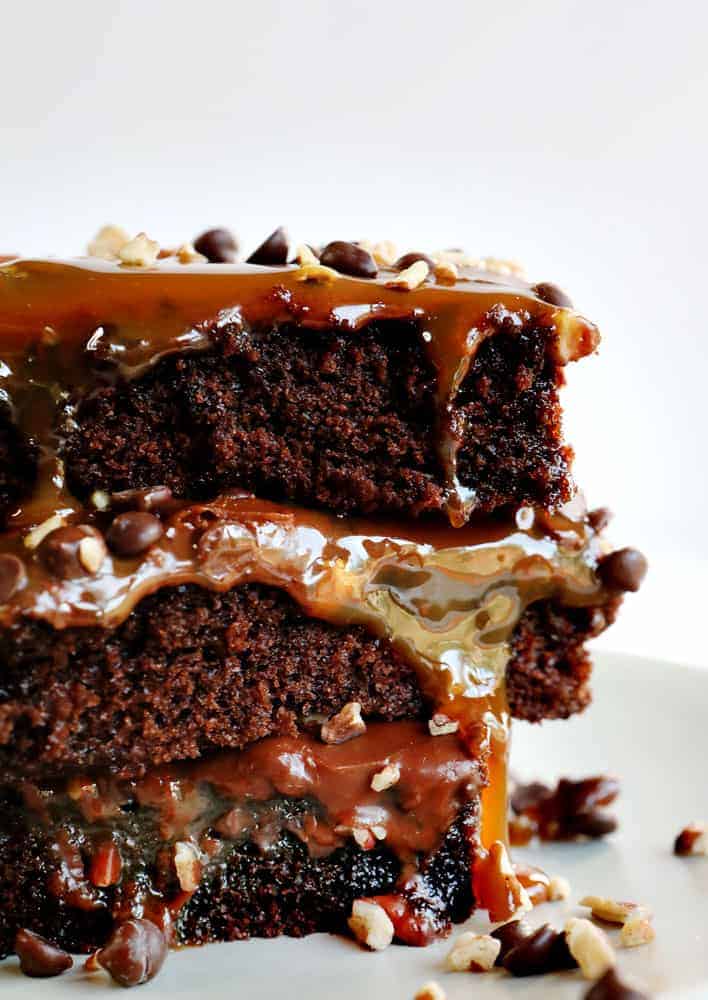 Texas Turtle Sheet Cake
Most of us already know and love Texas Sheet Cake (thank you to our Southern friends!). But when you add pecans, more chocolate, and a caramel drizzle magical things happen! I know I love a good turtle candy, so having it in cake form is win-win! I opted to use mini-chocolate chips on top, but you can use full size if that's what you have.
Sidenote: When I tried a piece the next day and it was EVEN BETTER. If at all possible, I recommend saving yourself a slice so that you can see just what a few hours will do to this crazy good recipe!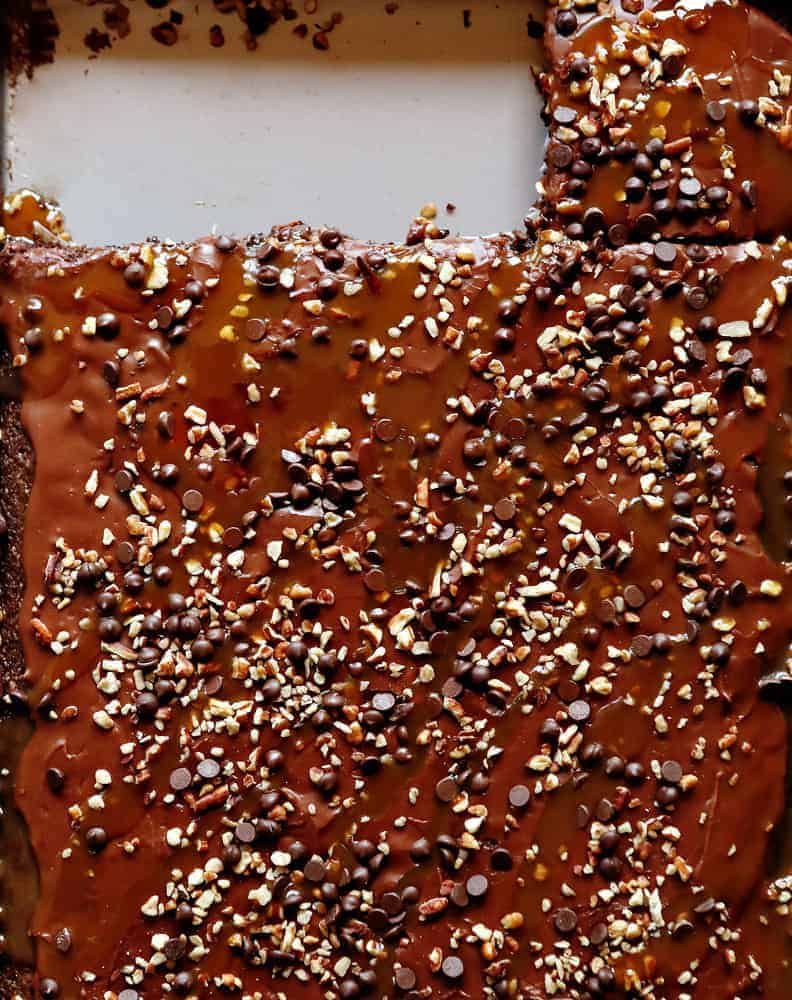 Texas Sheet Cake (2 Ways)
In doing research for the Texas Sheet Cake I discovered that most recipes either use buttermilk or sour cream. Both are big robust fats that offer a lot to the recipe. I chose to stick with buttermilk in this recipe. (A homemade buttermilk option is in the recipe notes!)
This recipe also uses coffee (one of my favorite additions to a chocolate cake), but you can certainly use hot water if you prefer to leave the coffee out. Coffee is not supposed to
The recipe I have included here is the from-scratch version. If you happen to watch the video, I used a boxed cake mix. Both options are delicious and easy, so feel free to choose whichever one suits your preferences.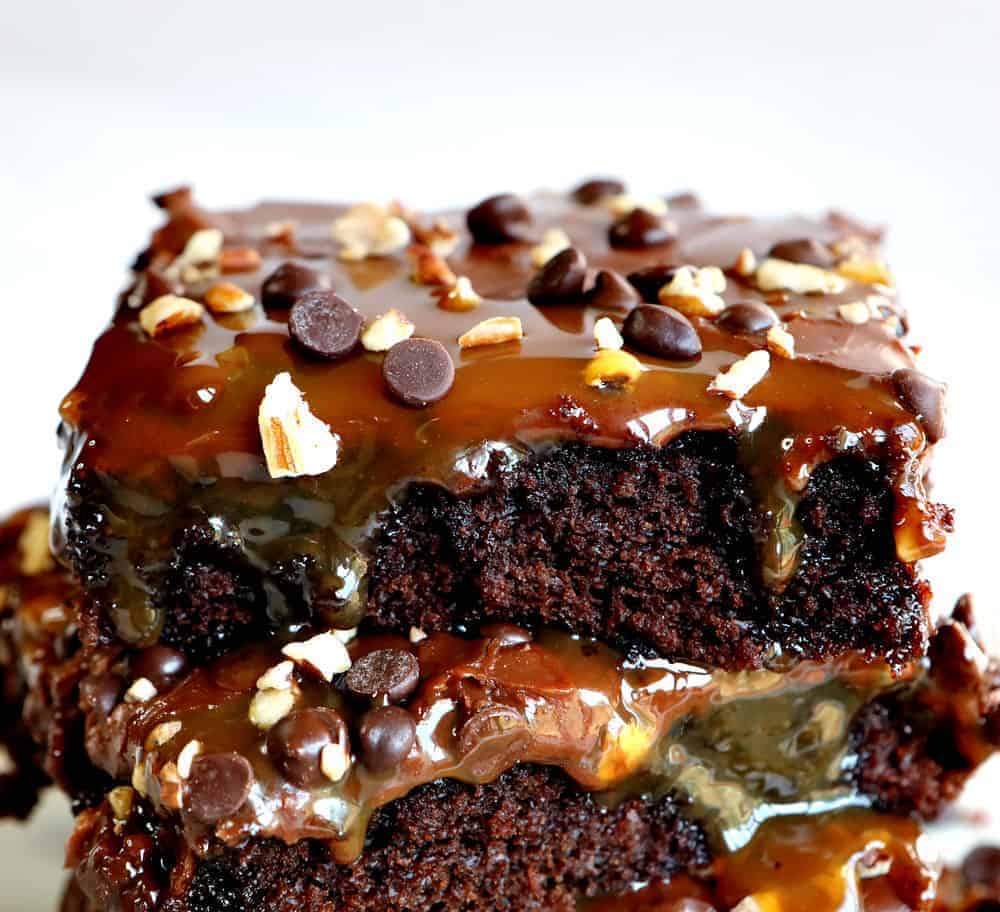 Caramel Sauce
You can absolutely make a caramel sauce from scratch. I recommend this Salted Caramel Sauce for amazing depth of flavor! For this recipe I was keeping every easy and quick, so I opted for a jar of caramel topping used for ice cream. It heats beautifully and pours like a dream, as well as being easy to use. I love how it soaks into the cake make it extra moist!
The combination of chocolate, pecans, and caramel is amazing and why turtle candies are so dang popular!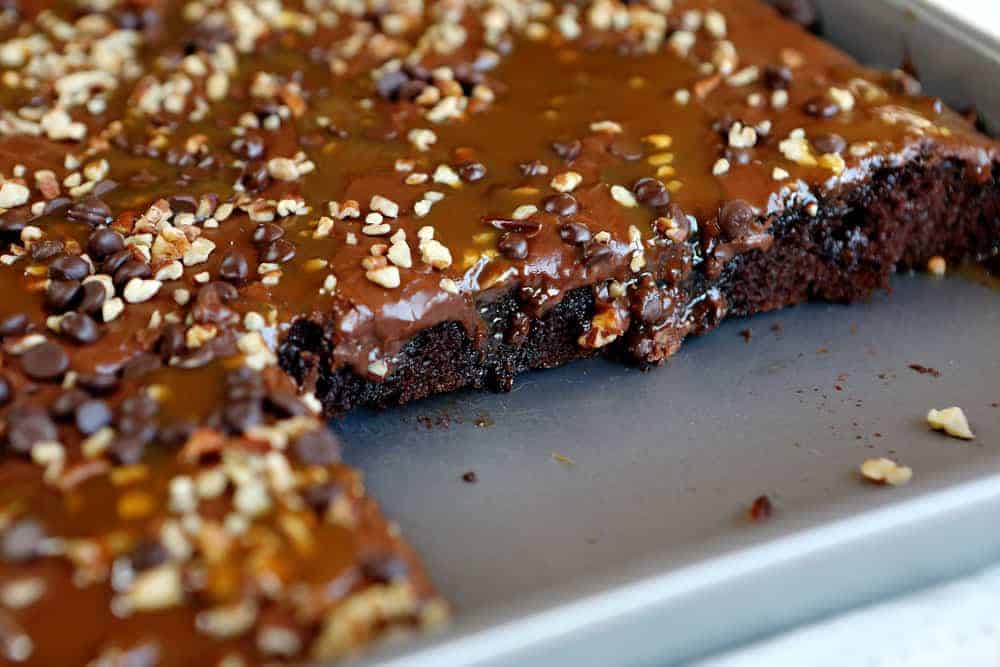 Tips for Baking Sheet Cake
Pick a good recipe! I prefer traditional sheet cake recipes like the Texas Sheet Cake listed below, as well as white cakes, banana cake, or chocolate mayonnaise cake. Pound cakes can be too dense for a large flat pan and won't rise as they need too.
The frosting is as important as the cake itself. There is a lot of surface area on a sheet cake and it needs a frosting the will compliment it well. Pick a contrasting flavor like vanilla frosting for a chocolate cake or cream cheese for a red velvet sheet cake. Another aspect to think about is how you want the cake to look. If you want a rustic look, traditional American buttercream is perfect for glorious frosting swirls. If you want a smooth as silk appearance, try a ganache.
In my opinion, sheet cakes are best served right in the pan. Make sure your pan is clean and free from rust spots.
No matter how you make your sheet cake, you are guaranteed to be the most popular person at the party!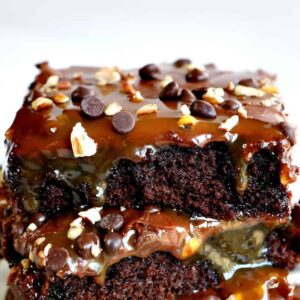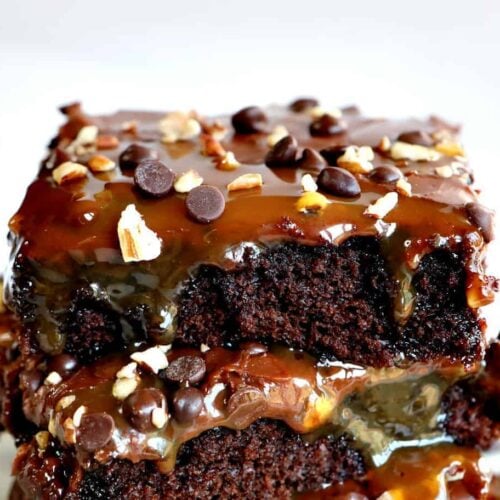 Chocolate cake with chocolate frosting, caramel, pecans, and chocolate chips? Yes, please!
Course: Dessert
Cuisine: American
Keyword: chocolate cake, texas turtle sheetcake
Servings: 24
Calories: 318 kcal
Author: Amanda
2

cups

(400g) granulated sugar

2

cups

(256g) self-rising flour

1

cup

(2 sticks or 226g) unsalted butter,

room temperature

1

cup

(237g) coffee

(can use hot water instead)

1/3

cup

(39g) unsweetened cocoa powder

1/2

cup

(120g) buttermilk*

(see notes)

2

eggs,

room temperature
Chocolate Frosting
1/4

cup

(57g) butter

1/4

cup

(60g) buttermilk

3

tablespoons

(22g) unsweetened cocoa

2 1/2

cups

(312g) confectioners sugar
Turtle Topping
1/2

cup

chopped pecans

1/2

cup

semi-sweet chocolate chips

1/2

cup

caramel sauce,

for drizzling over top
Chocolate Cake
Preheat oven to 350°F. Line 10in x 15in (or 9×13, but cake will be thicker and fudgier) with parchment paper and spray sides with non-stick spray if needed. 

In a large bowl, combine self-rising flour and granulated sugar and then set aside.

In a saucepan combine 1 cup butter, 1 cup coffee (or hot water), and 1/3 cup cocoa. Bring to a slow rolling boil, stirring constantly. 

Pour the warm butter mixture into the flour mixture. Using a hand-held mixer (or by hand) mix until ingredients are fully combined, about 30 seconds.

Add the buttermilk and eggs. Mix on medium speed for another 30 seconds, or until fully combined.

Pour into prepared baking pan and bake for 20-25 minutes. When cake is done baking it should spring back if you touch it. An inserted toothpick should be removed mostly clean, a few crumbs are perfect. (Start checking at 17 minutes.)
Chocolate Frosting
In a medium saucepan, combine 1/4 cup butter, 4 tablespoons buttermilk, and 3 tablespoons unsweetened cocoa powder. Bring to a slow rolling boil over medium heat, stirring constantly.

Remove from heat and use a wire whisk to gradually mix in powdered sugar, a 1/2 cup at a time.

Spread or pour the warm frosting over the cake. 
Turtle Topping
While the cake is still warm, sprinkle with chopped pecans and then the mini chocolate chips. Drizzle with caramel sauce.
If you don't have buttermilk you can make your own. 
Homemade Buttermilk
1 tablespoon vinegar or fresh lemon juice
1 cup milk (I prefer whole milk)
Place the vinegar and milk in measuring cup. Stir to combine and let stand for 10 to 15 minutes (The mixture should begin to curdle).
Want more fun cakes? Try these!
Amanda Rettke is the creator of I Am Baker, and the bestselling author of Surprise Inside Cakes: Amazing Cakes for Every Occasion – With a Little Something Extra Inside.Over the course of her 15+ year blogging adventure, she has been featured in and collaborated with the Food Network, New York Times, LA Times, Country Living Magazine, People Magazine, Epicurious, Brides, Romantic Homes, life:beautiful, Publishers Weekly, The Daily Mail, Star Tribune, The Globe and Mail, DailyCandy, YumSugar, The Knot, The Kitchn, and Parade, to name a few.