Get your autumn pumpkin fix with vegan Pumpkin Squares from Back to the Cutting Board by Christina Pirello! These treats are perfect for Halloween, Thanksgiving, or anytime you're craving a little something sweet.
Christina Pirello
I got to know Christina Pirello through her PBS show Christina Cooks. I remember discovering it for the first time and feeling super excited that there was actually a vegan cooking show on television. Christina's vibrant personality and abundance of energy shown through as she cooked up deliciously healthy plant-based meals.
In Christina's newest cookbook Back to the Cutting Board, she shares more than 100 "Luscious Plant-Based Recipes to Make You Fall in Love (Again) with the Art of Cooking." These are nourishing meals made with fresh whole food ingredients that just about anyone will love, regardless of their dietary preference.

Healing with Nutrition
At the age of twenty-six, Christina was diagnosed with stage four leukemia. She was able to heal herself with through nutrition, using plant-based foods and the philosophy of macrobiotics. In Back to the Cutting Board, she shares some of the knowledge she gained during her healing journey with us.
Christina explains the theory of yin and yang, and how it relates to food. She also explains the five-element theory and how the energies of fire, earth, metal, water, and tree can be using in cooking. Each recipe is labeled with the elements that it corresponds to, making it easy to put the theory into practice.
Cooking with Back to the Cutting Board

Christina also shares her cooking knowledge with us in Back to the Cutting Board. She shares cooking tips along with her lists of pantry essentials and must-have kitchen tools. There's even a lesson on knife skills, so that you can become a pro at chopping veggies in no time.
And then, of course, there's the food. The recipes in Back to the Cutting Boardinclude soups, sides, mains, and desserts, and they prove that healthy food isn't boring or bland. Christina cooks using techniques that optimize the natural flavors of ingredients, transforming them in delicious masterpieces.
Often, omnivores think that healthy vegan food is too "weird" for them to try. But there's nothing weird here! Who can turn down a slice of Sweet Onion Galette, a plate of Veggie Hot Pot with Biscuit Topping, a bowl of Creamy Mushroom Soup, or a piece of Mocha Cake with Chocolate Ganache? All of the dishes in Back to the Cutting Boardare easily recognizable, using easy-to-find ingredients.
Chapters in Back to the Cutting Board include:
Back to the Cutting Board
On to the Meals
Oh, Those Veggies
Senstational Soups
Whole Grains: The Staff of Life
Essential Proteins
Killer Desserts that Won't Kill You
If you're new to plant-based cooking or are looking for some healthy vegan recipes to add to your collection, Back to the Cutting Board is the book for you!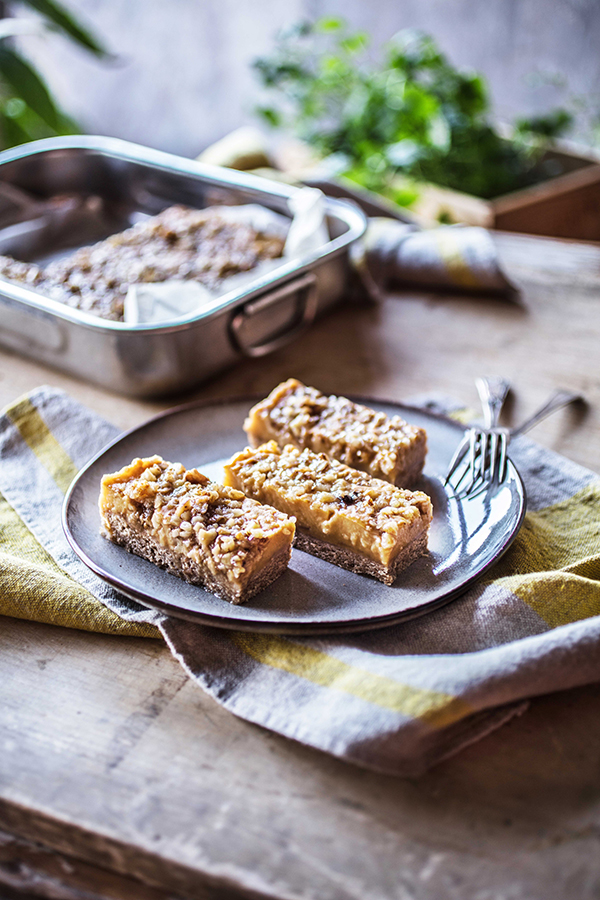 Pumpkin Squares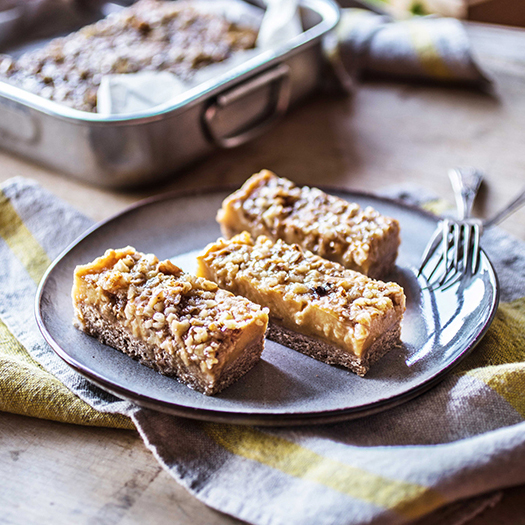 Pumpkin pie filling atop a flaky biscuit crust is so homey and appealing. I prefer these creamy little squares to a traditional pumpkin pie. Bite-size, rich, and spicy, these are perfect with a hot cup of tea as a cozy treat. Easier to make than a pie, this is the perfect stepping-stone to pie making.
Author: Christina Pirello
Recipe type: Dessert
Yield: 12 to 16 bars
Ingredients
BISCUIT CRUST
1½ cups whole wheat pastry or sprouted whole wheat flour
¼ cup avocado or extra-virgin olive oil, plus more for the pan
2 tablespoons coconut sugar
1 teaspoon baking powder
Pinch sea salt
¼ to ½ cup unsweetened almond, soy, or other nondairy milk
PUMPKIN FILLING
2 cups unsweetened pureed sugar pumpkin or butternut squash
1 cup unsweetened almond, soy, or other nondairy milk
¼ cup Suzanne's Specialties brown rice syrup
2 tablespoons agar flakes
1 teaspoon pure vanilla extract
½ teaspoon ground ginger
¼ teaspoon ground cinnamon
¼ teaspoon freshly grated nutmeg
Pinch sea salt
2 tablespoons kuzu root or arrowroot powder, dissolved in ¼ cup cold water
PECAN TOPPING
¼ cup Suzanne's Specialties brown rice syrup
1 cup coarsely minced pecan pieces
Instructions
To make the crust: Preheat the oven to 350°F. Lightly oil a 9- or 10-inch square baking dish.
Combine the flour, oil, coconut sugar, baking powder, and salt in a food processor fitted with the metal blade. Pulse 40 to 50 times, or until the mixture is the texture of wet sand. Slowly add the milk through the feed tube, and pulse until the mixture gathers into a ball. Press the dough evenly into the prepared dish.
Bake for 12 minutes. Set aside, leaving the oven on.
To make the filling: Combine the squash or pumpkin, milk, brown rice syrup, agar flakes, vanilla, ginger, cinnamon, nutmeg, and salt in a saucepan. Cook over low heat, stirring frequently, until the agar dissolves, 15 to 20 minutes. Stir in the kuzu root mixture and cook, stirring, until the mixture thickens, about 3 minutes. Spoon the filling evenly over the partially baked crust.
To make the topping: Cook the brown rice syrup in a small pot over high heat until it foams. Stir in the pecan pieces, then spoon the pecan mixture over the filling.
Bake for 30 minutes, or until the edges of the filling are set. The center will still be soft but will set as it cools. Cool completely before cutting into bars. These will keep, in a tightly sealed container, for 2 to 3 days.
3.5.3226
Related