This dairy-free White Chocolate Raspberry Cheesecake from Vegan Junk Food by Lane Gold is just the thing to satisfy your sweet tooth!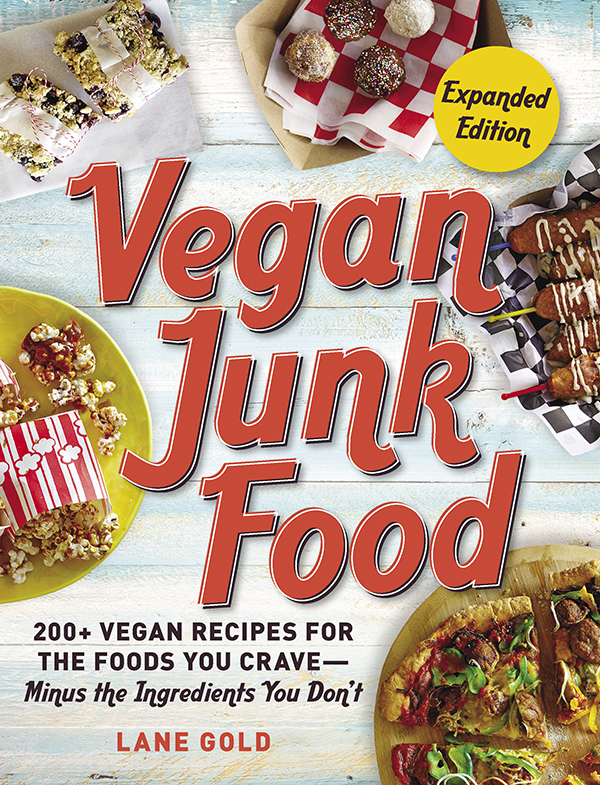 There seems to be a misconception out there that vegan food must be healthy for it to be considered legit. I see it all the time on social media – whenever a friend posts about a vegan food that uses oil, vegan meats or cheeses, sugar, or too many "carbs," the naysayers come out in droves.
The word vegan, as defined by Donald Watson who actually coined it, means "a philosophy and way of living which seeks to exclude — as far as is possible and practical — all forms of exploitation of, and cruelty to, animals for food, clothing or any other purpose… In dietary terms it denotes the practice of dispensing with all products derived wholly or partly from animals."
So as long as a dish doesn't contain ingredients that were derived from animals, food that contains oil, salt, sugar, and processed ingredients is indeed vegan.
As a health coach, I can understand the desire to follow a healthy diet. I do follow a healthy diet myself. However, I'm not down with people using "healthy" and "vegan" as synonyms. I went vegan for the animals. I eat healthy food for my well-being. But sometimes, I find myself craving a hearty sandwich, a big bowl of comforting mac and cheese, or a slice cheesecake, and that's where Vegan Junk Food by Lane Gold comes in.
Vegan Junk Food



The pages of Vegan Junk Food are stuffed full of over 200 vegan comfort food recipes. These are veganized versions of everyone's favorite classics, such as pizzas, burgers, casseroles, and cakes. Just about everyone, regardless of their dietary preference will love these dishes. Who can say no to Buffalo Cauliflower Dip or a Baked Ziti Pizza? Is there anyone who doesn't love a Sloppy Joe or a Sugar Cookie?
The recipes in Vegan Junk Food are perfect for parties, holidays, or even just regular ol' weeknights. You'll find dinner dishes, sandwiches, snacks, and even desserts in Vegan Junk Food. The dishes are easy to make, and they use ingredients that are available in just about any grocery store.

Chapters Include
Breakfast of Champions
Lunchtime Favorites
Comfort Food Meets Takeout
Crusts and Carbs
Festive Grub
Dips for All Seasons
Savory Treats
Cakewalk (Pies, Too)
Candy and Cookie Fix
Grab 'n' Go Sweets
This is a revised and expanded version of Lane's 2011 cookbook of the same name. It's a great book for those transitioning to veganism, vegans who are craving comfort food, and cooks trying to please families comprised of both vegans and omnivores.
Check out this video for the book's Portobello Cheesesteak recipe, which is perfect for game day snacking.
White Chocolate Raspberry Cheesecake
This White Chocolate Raspberry Cheesecake is a terrific dessert for the Thanksgiving or Christmas, and it's sure to be a crowd-pleaser at holiday parties. It's also a tasty treat for those times when you have a hankering for something sweet!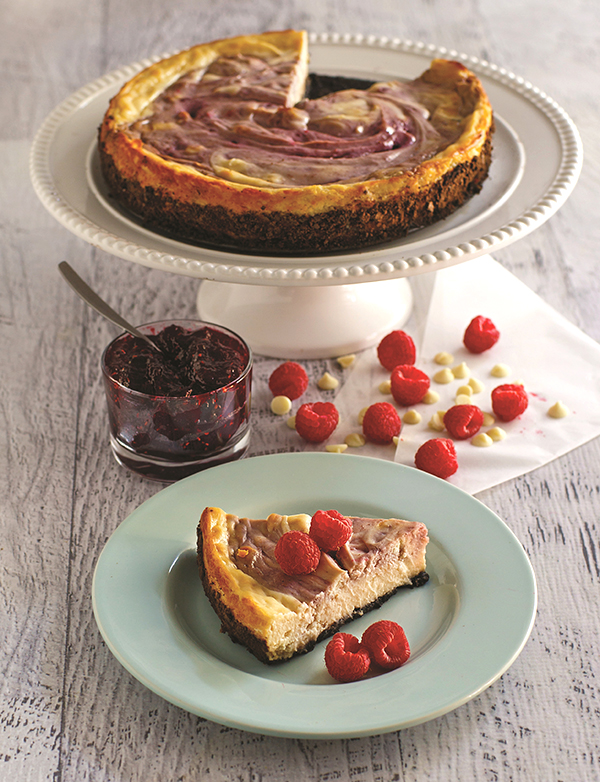 White Chocolate Raspberry Cheesecake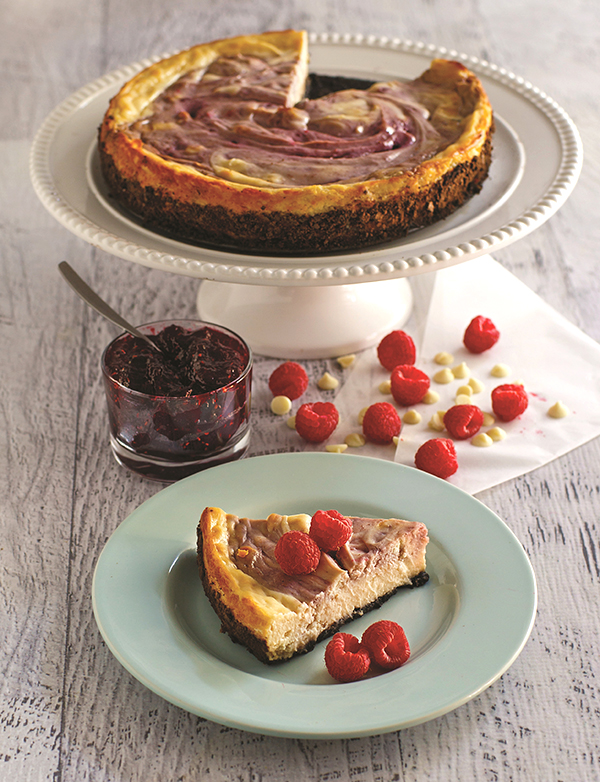 Your palate will feel like it's taken a trip to paradise after you bite into this awesome creation, courtesy of crushed Oreo cookies, white chocolate, and a swirl of raspberry jam.
Author: Lane Gold
Yield: 10 – 12
Ingredients
15 Oreo cookies, finely crushed
4 tablespoons vegan butter, softened
1 (16-ounce) package firm tofu, drained
2 (8-ounce) containers vegan cream cheese
¾ cup sugar
¼ cup oil
2 tablespoons lemon juice
½ teaspoon salt
1 teaspoon vanilla extract
1 cup vegan white chocolate chips, divided
¼ cup raspberry jam
Instructions
Preheat oven to 350°F. Lightly grease a 9″ spring form pan.
In a small bowl, mix cookie crumbs with butter. Press into prepared pan.
In a blender, add tofu, cream cheese, sugar, oil, lemon juice, salt, and vanilla. Blend until very smooth, about 2 minutes.
In a small microwave-safe container, melt ½ cup white chocolate chips, cooking at 15-second intervals, stirring after each interval until chocolate is smooth.
In a large bowl, stir together blended ingredients, melted white chocolate, and remaining ½ cup white chocolate chips.
Pour over cookie crust, reserving ½ cup batter.
In a small bowl, mix reserved batter with raspberry jam.
Spoon raspberry batter on top of cheesecake in a random pattern. Using a butter knife, swirl lightly to marble top of cheesecake.
Bake 45 minutes. Turn oven off, leaving cheesecake in oven without opening door for another 20 minutes. Remove from oven and cool on counter. Refrigerate overnight.
Notes
Excerpted from Vegan Junk Food, Expanded Edition: 200+ Vegan Recipes for the Foods You Crave―Minus the Ingredients You Don't, Expanded Edition by Lane Gold Copyright © 2018 Adams Media, a division of Simon and Schuster. Used by permission of the publisher. All rights reserved. Photographs by James Stefiuk.
3.5.3226
Photographs by James Stefiuk.
Related